Help
Video Tutorials Rules FAQs Scoring Features
TheBench™ offers a unique Fantasy Sports experience placing an emphasis on keeping the game play simple, easy and enjoyable while still being rewarding for a dedicated and well researched coach.
AFL has been available on TheBench™ since 2004 and has continued to lead the way in Fantasy games with respect to innovation, game play, flexibility and simplicity.
TheBench™ as a platform supports any number of sports. Currently available public competitions include:
AFL: Australian Football League, Aussie rules Football
NRL: Australian National Rugby League
Super Rugby League
The customisation available on TheBench™ gives you back control of your Fantasy Competition. If you have been running a Fantasy Football competition for your mates on a spreadsheet, TheBench™ is the ideal platform for you as it will support any number of scoring systems, field placements and rules.
Other Fantasy Sports solutions offer overly complicated, time consuming and onerous systems that put all but the most devoted sports fan off. TheBench™ on the other hand will have you screaming out for more.
TheBench™ also allows a very high level of customisation so you can play the game to your rules. If the default wizards don't give you the power to customise the game to your liking, contact us to discuss more.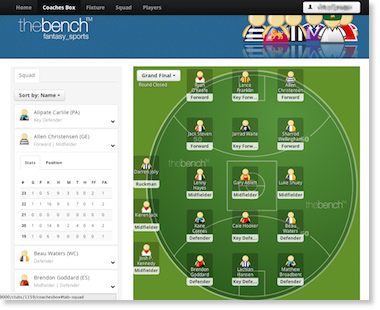 Since it's debut, TheBench™ has offered an original Draft style Competition. While TheBench™ supports a Salary Cap style game, our bread and butter and focus is the Draft style game.
In the Draft style model, Coaches in a given Competition take it in turns to pick their Squads, one Player at a time. A given player can only be listed in a Squad once. Typically Competitions have in the order of 10 to 20 Clubs. Coaches compete only with the Clubs in their Competition.
A Season typically plays out like this, with some variation between Codes:
A User registers with TheBench™ to create a private Competition. A User is a Coach of a Fantasy Club.
The Coach invites his mates and/or colleagues to join the Competition.
Coaches nominate a Squad of Players (in a Player Draft, one at a time).
A Game Fixture is drawn up where for each Round a Club is picked to play against another.
For each Round, a Coach picks a Team of players from their Squad to play against the Team of the nominated opposition Club.
A Team wins if their total score is greater than their opponents. The score is based on the performance or each player in the Team (as described in detail later).
In Codes that have a finals series (such as the AFL, NRL and Super Rugby), in the last four weeks of the Home and Away season, the Clubs at the top of the Ladder will progress to the finals series to fight it out for the Competition Premiership.
For Codes without a finals series (eg. EPL), or for Salary Cap style Competitions, the Club with the highest overall score throughout the whole season will be declared the League winner.
Learn More: